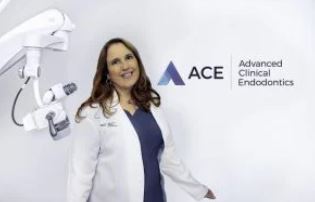 Susan Pedott, DDS
Dr. Susan Pedott has been helping patients conserve their natural smile for nearly 25 years.  Known for her compassion and her calm, reassuring chair-side manner, her dedication to providing comfortable, high-quality endodontic care matches her commitment to putting patients first.  After earning a Bachelor of Arts degree from The College of Wooster in Wooster, Ohio in 1989, she discovered her passion for dentistry as a chair-side dental assistant while completing a regimen of advanced science studies at the University of Connecticut.  Focused on persuing her life's calling, Dr. Pedott enrolled in the acclaimed Tufts University School of Dental Medicine and earned her Doctor of Dental Medicine degree.  
She then completed a postdoctoral degree in endodontics at top-ranked New York University College of Dentistry, where she taught clinical endodontics and was invited to present research at the American Association of Endodontists annual meeting in Seattle.
After completing her dental education, Dr. Pedott went into private practice in Bethlehem, Pennsylvania in 1999.  During that time she was on staff at both Lehigh Valley Hospital and St. Luke's Hospital, teaching clinical endodontics to dental graduates in residency programs.  In 2009 she moved to Texas, bringing her vast knowledge and experience in all facets of endodontics, along with her strong surgical skills, to Greater Houston.  Dedicated to lifelong learning, Dr. Pedott is at the forefront of her field.  Through continuing education and personal study, she remains up to date on the latest methods, techniques, materials, and technological advances.  Outside of practicing endodontics, Dr. Pedott is an animal lover and pet parent, a community volunteer and enjoys a variety of music, fine arts and theater.  Her hobbies include sculpting and making intricate jewelry.